November 10, 2017 - OU ROTC 100th Anniversary
(Click on any image below)

Oklahoma University - College of Law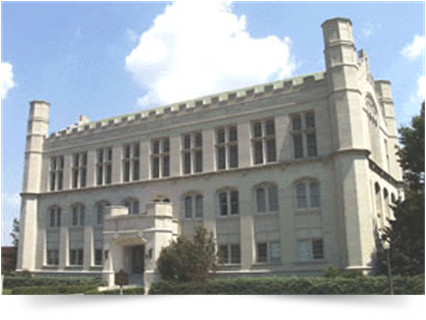 Monnet Hall, Home of OU College of Law from 1914 - 1976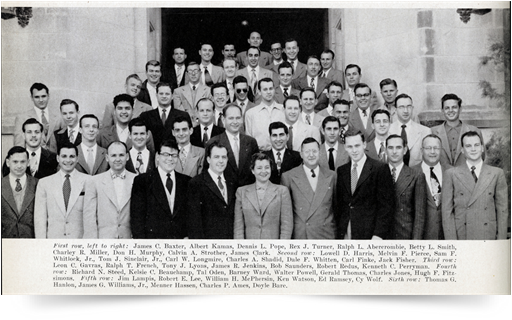 From University of Oklahoma College of Law Yearbook, Graduating Class of 1952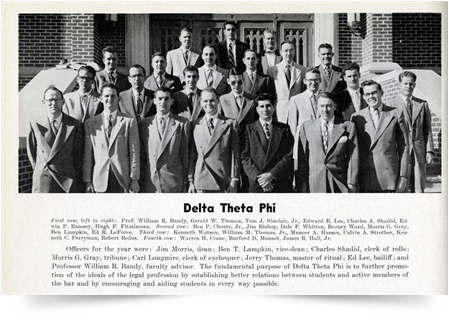 From University of Oklahoma College of Law Yearbook, Delta Theta Phi Fraternity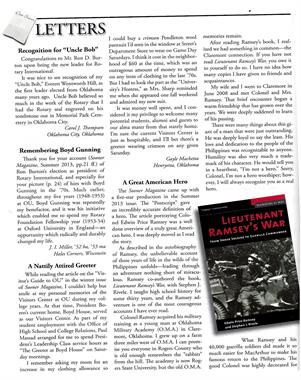 Sooner Magazine Spring 2014, Letters to the Editor mentioning
Dr. Jack Garrison's previous article about Ed
Ed attended law school at the University of Oklahoma in Norman, OK and completed his degree in 1952.
Raqui attended the celebration of the OU ROTC 100th anniversary where she, along with Col Ed Ramsey Jr., presented the Ed Ramsey Scholarship Endowment award and Saber to Outstanding Cadet James Kidd.
Raqui also toured the campus with LTC Thomas Brede, Professor of Military Science, where they visited the Physical Sciences Center where Ed began his law studies as well as the steps of Monnet Hall, the original home of OU College of Law until 1976, where the below yearbook photo of the 1952 OU graduating class was taken. Raqui also visited Ed's display case in the OU Armory.
| | |
| --- | --- |
| | |
| | |
| | |
| With Kyle Brede and Keith Huffman | With Dr. David Boren, President of OU |
| | |
| With Col. Ed Ramsey, Jr at the Display Case | With Commander Johnny Charqueno |
| | |
| | |
---
March 2018 - OU Armory museum display
This month, Ed's display at the OU Armory was updated with his uniform and decorations, shown below.
April 2018 - Bataan Memorial Death March
Several stalwart cadets from the University of Oklahoma Army Reserve Officer Training Corps (ROTC) program completed the 29th annual Bataan Memorial Death March in New Mexico. A full report was recently published in The Norman Transcript.
---
---
OU College of Law - Historical Images